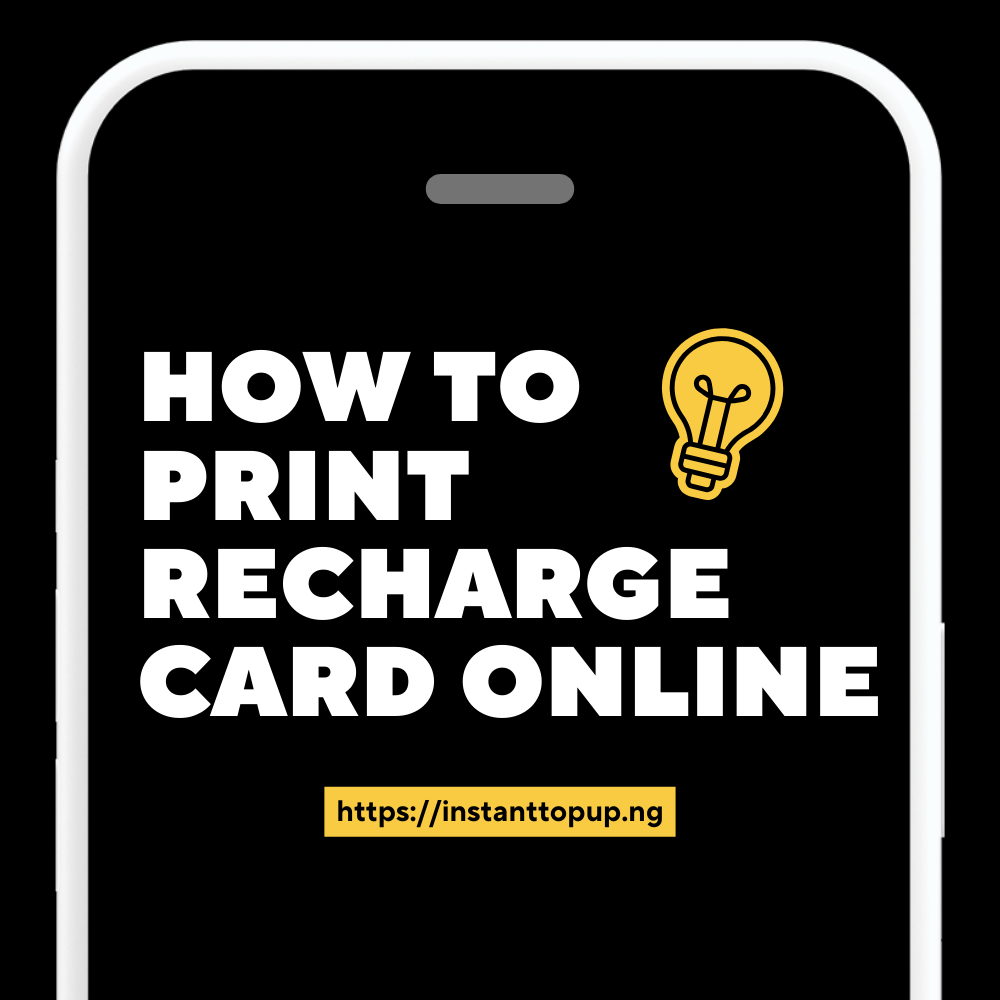 To start a recharge card printing and selling recharge cards business in Nigeria, you need to buy in bulk from a vendor or print your recharge card ePINs online. This tutorial shows a step-by-step guide on the cheapest websites to start a recharge card printing business online in Nigeria for all networks including MTN, Glo, Airtel, and 9mobile.
Starting a recharge card printing business does not have to be complicated and stressful with the help of the cheapest Websites for Printing Recharge cards in Nigeria. You only have to get a Bluetooth printer (small printer).
But that is not all. You must also know where to buy cheap ePINs (Vouchers), called the Recharge Card PIN.
Best Cheapest Websites For Printing Recharge Cards In Nigeria 2023.
Requirement you need to start a recharge card printing business in Nigeria.
1. Business Name (Company name).
2. Printing Machine.
3. A4 Paper.
4. Internet Connection.
5. Email Address.
6. Capital.
Now you know what you need to start a recharge card printing business, what are the steps to start it now?
How To Start Recharge Card Printing Business In Nigeria Online
To start recharge card printing and VTU vending business online, you need a website or app to vend print airtime and data.
InstantTopUp is one of the cheapest websites where to buy airtime and data at a cheap rate. You can also be able to print recharge cards.
All you have to do is register on InstantTopUp and upgrade your account to become a reseller. Let's look at how to create an account on InstantTopUp.ng.
Step 1: Open InstantTopUp.ng (https://instanttopup.ng).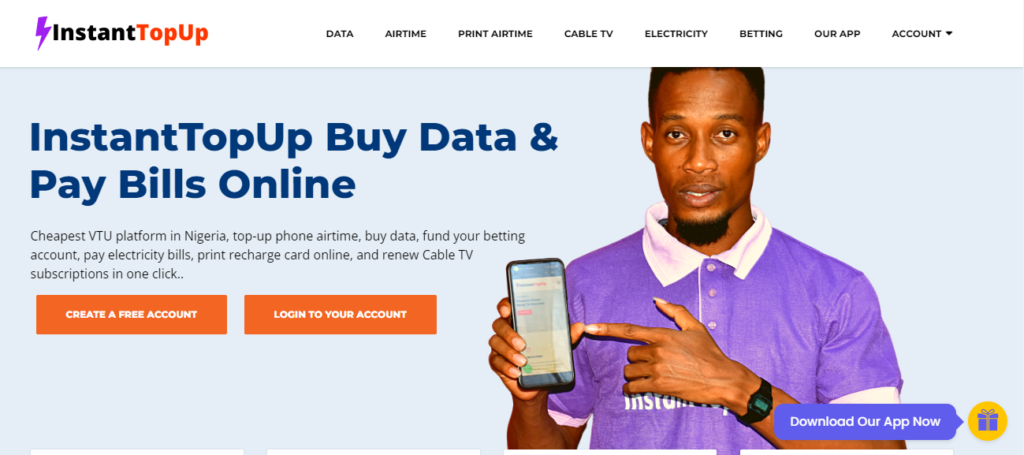 Step 2: Click on Account and choose REGISTER to create a new account.
Fill out the following with your business information.
Your first name.
Your last name.
Desired username of your choice.
A working email address.
Phone number.
Put your best password and
Click the Agree to Terms of Services box and click on SIGN UP to create your free account.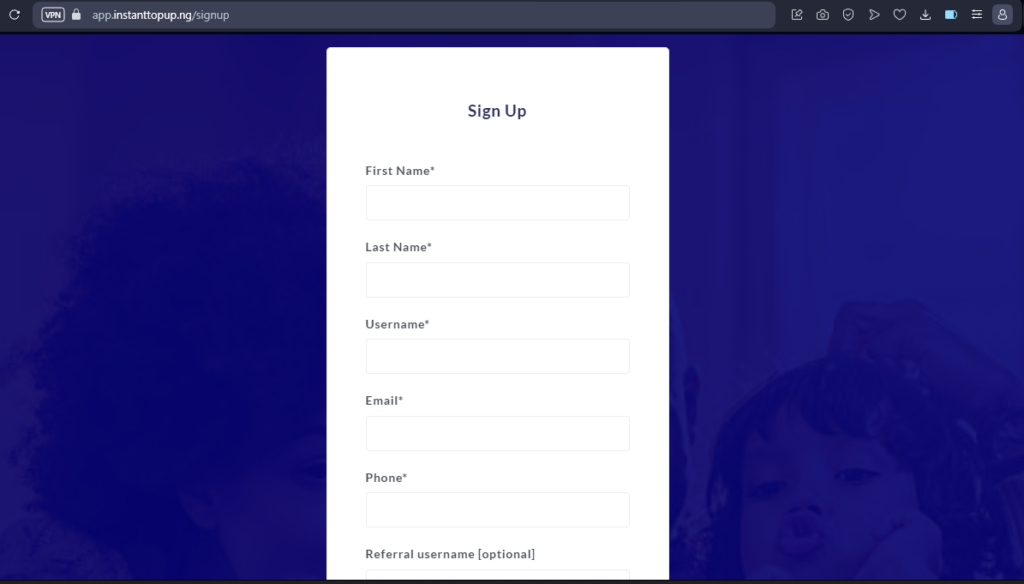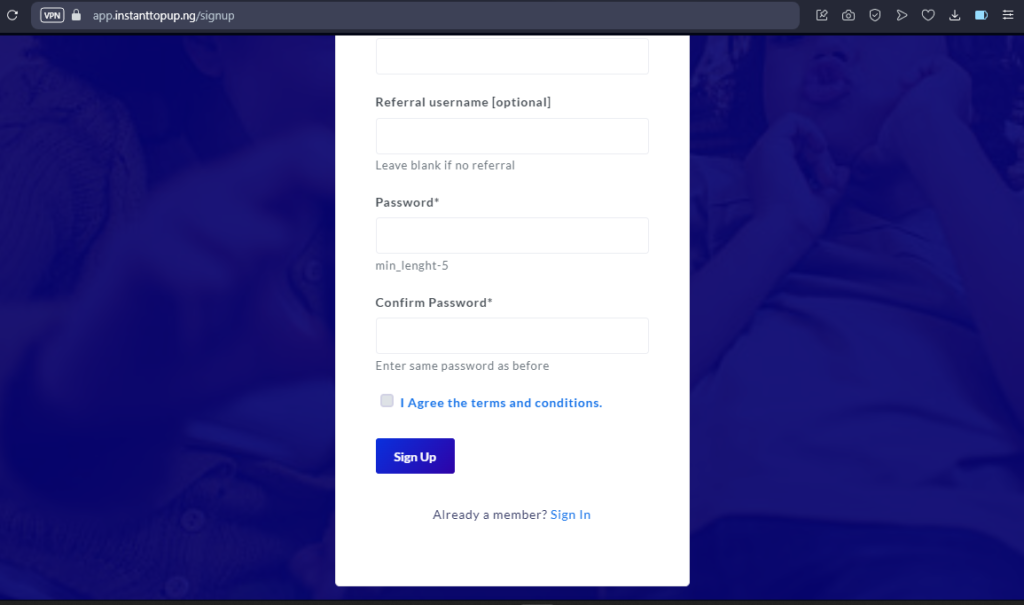 Now that you have an account with IntantTopUp.ng, you can upgrade your account now.
Step 3: Go to the menu bar and click on Upgrade to become a reseller on InstantTopUp.ng
Step 4: Pay ₦5,000 online via your dashboard or fund your wallet. Then upgrade your account.
You can pay the agent fee via your dashboard by clicking UPGRADE TO AGENT, then pay online or direct bank transfer to
Account name: Bigtink Digital Creations
Account number: 1227559656
Bank name: Zenith Bank Nigeria Plc.
Send only N5,000 to the above account details, if you wish to pay via bank transfer and send the payment proof to 08166738666 on WhatsApp, alongside your InstantTopUp username to be upgraded to an agent.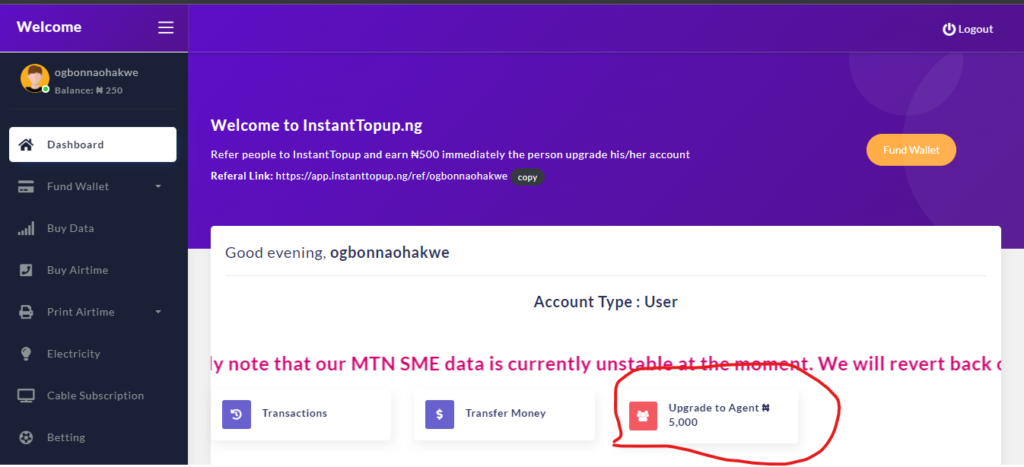 So, Now that you have a reseller account with InstantTopUp.ng, you can start selling data and airtime cheaply.
However, selling recharge cards involves printing the PIN on paper and distributing it. Here is how you can do it on InstantTopUp.ng, to start generating PIN.
How To Print Recharge Cards Online on InstantTopUp.ng
Aside from vending VTU recharge directly from your device. You can also print recharge cards from InstantTopUp.ng.
Here is how to generate voucher PINs.
Before you can generate recharge Card PINs from the platform, ensure you have fully funded your account with or more than the amount you intend to print equivalent recharge cards for.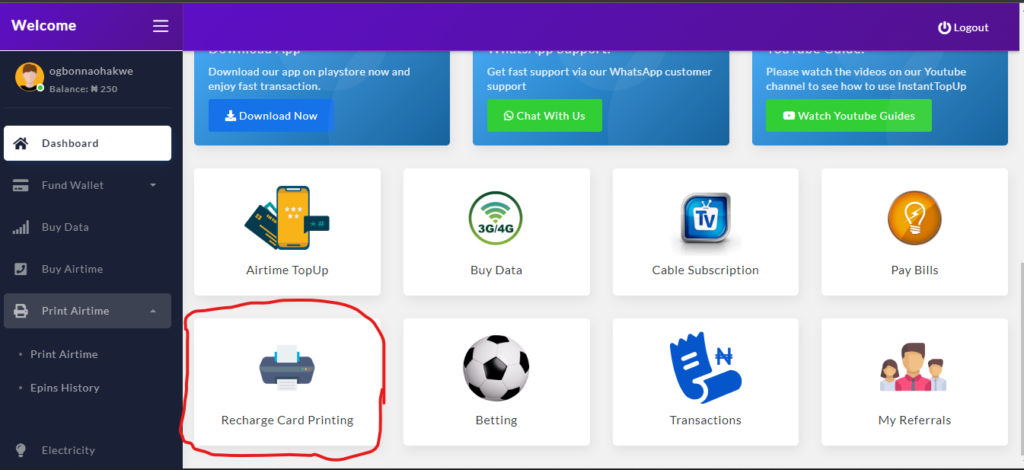 After you click on the button, it will now take you to the next page, where you have to select the network you want to print as seen in the image below.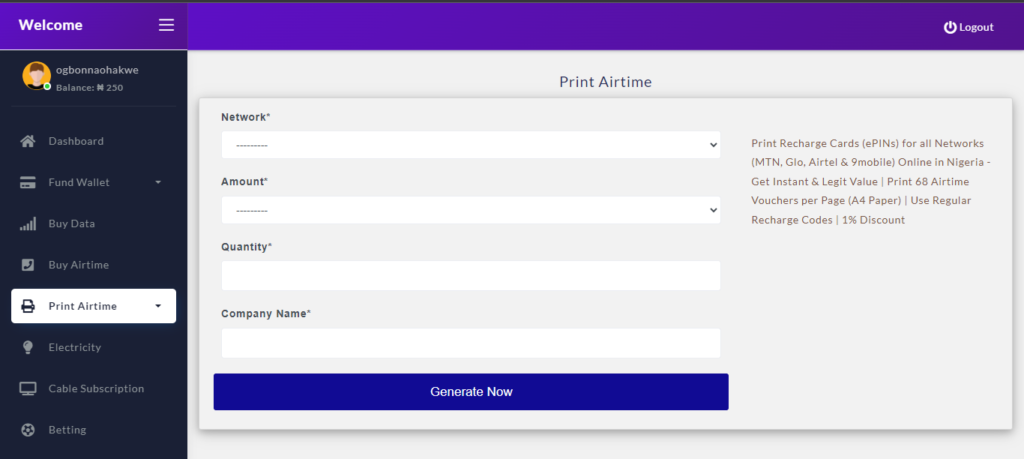 The 1% you are seeing there is our default discount for non-agents. To enjoy upto a 4% discount, simply upgrade to an agent.
Go to the ePIN page on InstantTopUp.ng
Select and fill in the required field (select network, price range, and quantity).
Enter the business name you want to see printed on it.
Click on generate to generate a Printable page.
Put your default pin which is 1234 and print your recharge card.
Next is to get your A4 Printer ready to print and connect to your device (Computer or Smartphone), then print the pages.
You can get a Jetprinter or any A4Printer of your choice and a good A4Paper to start with.
Before we arrived at this page, we talked about funding your wallet account to enable easy payment when processing your ePIN vending. So, let's look at how to fund your VTU account.
How To Fund Your InstantTopUp Wallet Account
After creating an InstantTopUp account, an account number is automatically created for you. Once you make a payment to the account, your wallet is automatically credited. However, if you are having issues with that, you can fund your account by creating an online payment and still get credited instantly.
Tap on the menu and locate the fund wallet link.
Fund your virtual dedicated account or pay online using the manual method.
Enter the amount you want to fund.
Make Payment using your ATM card or your Bank app/ USSD code.
Once your payment is received, your account will be credited.
Note:
Any payment made into any of the above accounts will be automatically (instantly) credited to your wallet. Note: ₦53.75 charge will be deducted for all bank transfers less than ₦10,000. Enjoy ₦0.00 Transaction Charges if you deposit (transfer) up to ₦10,000. Minimum Amount: ₦500
If you prefer online payment (Debit/Credit – ATM Cards, USSD, Visa QR & Other Bank Transfers, etc.), enter the amount below and click the 'Fund Wallet' button to continue with your Card or USSD. Note: There is a daily limit of ₦40,000 and a maximum of ₦8,000 per transaction for funding through Card or USSD. Kindly transfer into your dedicated bank accounts above to avoid limits.
Final Conclusion
Hope this guide helps you find information about Cheapest Websites for Printing Recharge Cards in Nigeria 2023. Do not forget to share and leave a comment below. If you need extra help on how to start a recharge cards printing business in nigeria, open this link here > https://instanttopup.ng/epins